How do I make a concrete leaf casting?
Jerri_OKC
(z7 Ok)
January 1, 2013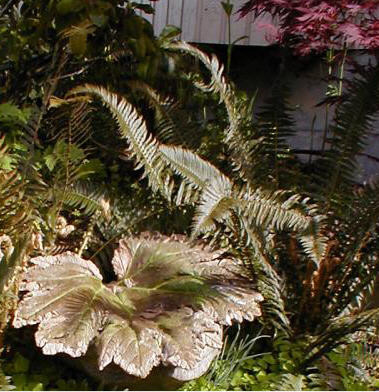 Image by: Dena
This is one of our most popular questions. The paragraphs are responses by Garden Web members. The names and Web sites were removed but the basic information remains intact. Thanks to everyone who contributed!
====================================
I remember seeing on a show, Martha or someone else, on location, a way to use large leaves as molds for garden sculpture. If anyone is familiar with the show will you please share the instructions with me. Thanks
====================================
Member Responses:
The Martha show was July 7, 1999. She did two shows with guests, David Little and George Lewis, from Bainbridge Island Washington. I have since visited the garden and also experimented with making several different types of leaves. The easiest leaves to learn on are hosta leaves. I have also made large Rhubarb, Rodergsia, and Gunnera. This fall I plan to tackle at least one Gunnera Leaf that is over 3Ft in width/diameter. (If you do not know what a Gunnera is look it up an d check out a site with pics. some of their leaves reach well over five feet in width.
Concrete Recipe
fine sand (#1 play sand works well)
cement (portland ( unfortunately it comes in very large bags))
bonding agent (sold at hardware stores along side the cement products, also called fortifier)
plastic wrap
water (a large cup works well)
cement/concrete colorant (optional)
Hosta leaves or other deep veined leaves (start with a little larger than hand size, dream about the next one you'll make that is bigger)
mixing container (a flat dishpan/ or wide bucket works well)
1 1-2" cheap paintbrush
16 gauge wire
latex or acrylic paints (vibrant colors look good in the garden)
a couple old towels/rags
Directions:
On a flat surface place a mound of damp sand, take your leaf and press the top side of the leaf over the sand, gently remove the leaf, and cover the mound with saran wrap, then re place the leaf on top of the saran wrap. The wrap must extend out from the edges of the leaf, as this keeps the concrete from coming into contact with the sand. Now take 3 parts of fine sand, 1 part of portland cement, if using dry cement colorant add it here, (if using liquid color add to the first bit of water you put in). Add the fortifier to the first amount of water that you add. Remember to add water a small amount at a time. Continue to add water until the mix is the consistency of toothpaste. Take a little of the mix and place it on the top of the leaf, then begin working the blob of mix toward the edge of the leaf, but not quite to the edge. Put it over all the leave. Thickness 1/4-3/8". If you want the leaf to hang on a fence or railing of some sort, place a small piece of 16 gauge wire (I use coat hanger) that is cut about two inches, then twisted so it makes a circle with tails. place this in the back of the leave a...