Which plants, trees, bulbs, vines, roses, and shrubs are fragrant?
guanabanaboy
(10b So. Cal.)
January 1, 2013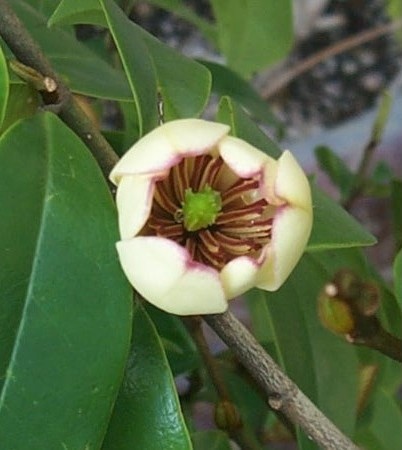 Image by: Clare_CA
Michelia Figo var. Skinneriana Which Shrubs Smell Good? -
Fragrant
Plants
The following list of fragrant plants was compiled by Clare_CA.
Please note, this list is considered a work in progress with additional fragrant plants added over time.
Plant Name
Abelia mosanensis 'bridal bouquet,' fragrant abelia
Abelia trilora
Acidanthera, 'Peacock orchid'
Agastache 'Summer Breeze'
Agastache foeniculum Anise Hyssop
Aglaia odorata
Aloysia virgatas, Sweet Almond
Azara microphylla
Beaumontia grandiflora
Blanc Double de Coubert rugosas
Boronia
Boronia megastigma
Brassavola nodosa (Lady of the Night orchid)
Brugmansia
Brunfelsia americana
Brunfelsia australis
Brunfelsia Nitida (Lady of the Night)
Brunfelsia pauciflora
Buddleia Asiatica
Calycanthus occidentalis, Spice Bush
Cananga odorata
Carolina allspice, Calycanthus sp.
Centaurea moschata Sweet Sultan (Annual)
Cestrum diurnum
Cestrum nocturum
Chimonanthus praecox
Chlidanthus fragrans Perfumed Fairy Lily (Bulb)
Choisya 'Aztec Pearl,'
Aztec Pearl Mexican Orange
Choysia ternata, Mexican Mock Orange
Cimicifuga 'Hillside Black Beauty'
Citrus (esp. 'Bouquet de Fleurs') Citrus (tree)
Clematis Montana
Clematis, Sweet Autumn Clematis
Clerodendron phillipinum
Clerodendrum trichotomum
Clethra alnifolia
Clethra 'Ruby Spice'
Coleonema pulchrum/Breath of Heaven
Crinum odorata
Crinum powellii and C. moorei
Daphne bholua Daphne 'Carol Mackie'
Daphne odora
Datura Inoxia
Datura Metel
Datura Stramonium var Tatula
Datura wrightii
Dianthus 'Bath's Pink'
Diplarrhena moraea 'Slieve Donard,' White Flag Iris
Dipogon lignosus
Diurnum
Double Delight - Hybrid Tea Rose
Dracaena fragans
Eriodictyon capitatum Lompoc Yerba Santa
Erysimum cheiri, Wallflower (Annual)
Eupatorium ligustrinum
Euphorbia leucocephala
Freesia (Bulb)
Gardenia angusta
Gardenia 'White Gem'
Gladiolus callianthus Abyssinian Sword Lily (Bulb)
Gladiolus tristis Marsh Afrikaner (Bulb)
Hansa - Rugosa Rose
Hedychium coronaria, common white ginger
Hedychium coronarium
Hedychium flavescens/gardnerianum/flavum/coronarium
Hedychium gardnerianum is an outstanding ginger lily.
Hedysarum coronarium French Honeysuckle
Helichrysum (Licorice plant)
Hemerocallis 'Fragrant Treasure,' Frangrant Treasure Daylily
Hemerocallis 'Hyperion,' Hyperion Daylily ...