How do I grow Michelias (Michelia alba, Michelia champaca, Michelia f
guanabanaboy
(10b So. Cal.)
January 1, 2013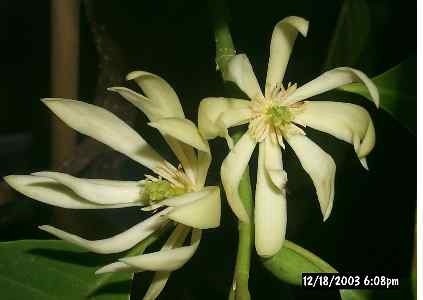 Image by: Clare_CA
Michelia Alba Which Shrubs Smell Good? -
Michelia
Culture
The following guidelines on Michelia culture were provided by Fredrik Liljeblad in a post to the Fragrant Plants Forum in July 2003.
I wrote this article on Michelias earlier this year. In it, I go into considerable detail about their culture.
FYI: the cultural advice is based on my Coastal San Diego, CA, climate, so you may have to adapt accordingly.
I am a great believer in keeping Michelias in large containers, because:
1. They can be moved about in the garden to find the ideal spot
2. Established Michelias resent being moved and suffer setbacks when they are moved
3. Water, soil, and feeding can be more easily controlled
4. If an unexpected frost is due, they can be moved temporarily into outbuildings or under overhanging eaves
My 12' M. alba is in a 20-gallon container and doing very well. If you're potting up, count on the plant spending about 5 years in the same container. To avoid root rot, make sure drainage is excellent--not just good, and mix a handful or two of activated aquarium charcoal into the potting mix to keep soil that the roots haven't yet reached from getting sour; drill extra drainage holes if necessary. If you live in an area with alkaline water (as I do), flush the mineral salts out of the container about every other month (see article). Putting about 2" of pea gravel into the bottom of the container helps drainage and also stabilizes the container in high winds (which Michelias dislike anyway).
My strongest advice is to (at least initially) grow most Michelias in containers for the reasons stated above. M. figo is an exception, but it still needs to be given proper culture and its hardiness limits (see Sunset Western Gardening Book) need to be respected if it's in the ground.
Here's the article:
Haunting Scents of Paradise-The Unforgettable Michelias
By Fredrik Liljeblad
If I were exiled to a barren island and allowed to take only one fragrant plant with me, it would be my Michelia alba. With difficulty-perhaps even a tear or two-I'd say good-bye to my collection of gardenias, and I'd sigh as I took a parting sniff of my Chinese jasmine (Jasminum polyanthum), whose trusses of pinkish white flowers permeate every inch of my garden and house with their heady scent each February and March,
but my precious Michelia alba, now a 12-foot tall tree, is the one fragrant plant I could never part from.
Michelias are a family of sub-tropical bushes or small trees related to magnolias that produce relatively small but powerfully fragrant flowers. The unique perfume, pungent and fruity, has been likened it to a range of fruits: bananas, pears, apples-even mangoes! The base for ...