Overwintering Fuchsias in Pots?
fuchsiabonsailady
(z8 UK)
January 1, 2013
During late Autumn all fuchsias in pots that I wish to overwinter have all flowers and foliage removed and anything between one third and one half of stems and branches cut-back, (this depends on variety of fuchsia). As a general rule always leave between 4 and 6 inches of old stems above soil level. Also remove at least 1 inch of soil from top of pot, give them a real good clean. Spray with insecticide and fungicide. If leaving your plant in same pot treat with Bravado (kills vine-weevil larvae).
You can if you wish pot-down at this stage. This procedure means that (a) the plants take up less space when overwintering and (b) it is better for the plant and roots not to be in too bigger pot during overwintering. Remove plant from pot, tease out at least half of old soil; remove any old brown roots leaving as much fine white root as possible. Place in new pot, at least 2 sizes smaller, add fresh soil, give adequate water to settle new soil, but do not drench with water.
Place in greenhouse for the winter at 45f/8c. (if you do not have a greenhouse, and wish to bring them back into growth straight away, place in a well lit, cool room e.g. windowsill, no direct sunlight, but you must turn them frequently, so as to keep their shape.) Keep them moist but not wet. Spray branches and stems with tepid water once per day (this helps new foliage to come back). As soon as new foliage appears start shaping again, ready for next season. Re-pot in Spring if necessary.
Another way of overwintering is to keep plants frost free, with little or no light, and just keep slightly moist, (otherwise they will die). They will not start to shoot new growth until you bring them back into light and warmth.
Even if you live in parts of the world where they really dont die down for the winter, it is still best when they are looking a bit tired and weary, to let them have a rest period, trim them back and re-pot if necessary.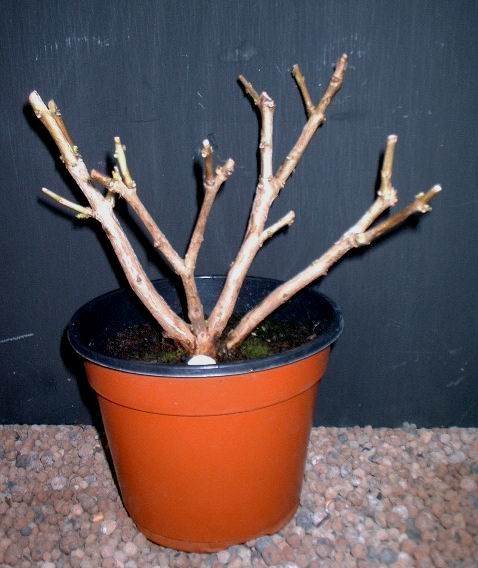 Ready for overwintering