How do I propagate fuchsias?
fuchsiabonsailady
(z8 UK)
January 1, 2013
Make sure that the plant you are going to use for cuttings is in good condition, free from disease and pests and has been watered a few hours beforehand. Soft-tip cuttings are the best, it is not necessary to use hormone rooting powder. Soil less compost is ideal, a little vermiculite can be added if you wish. Using a sharp knife remove cutting from stem just underneath a leaf node (cutting approx. half to one inch long according to variety ). Hold by leaves not stem, bruising of the stem can result in failure. Place cutting into prepared compost, do not press compost to firm with fingers., give pot or tray a tap, this will settle compost.
Water and place in propagator 60F 15C. If you do not have a propagator, cover tray with clear plastic lid or pot with clear plastic bag, place in a well lit situation , but not in direct sunlight.
After approximately 3 weeks new growth will appear, get plants acclimatised from their humid growing conditions. Remove plastic lid or bag 2 or 3 times per day for a few minutes. When more growth is apparent it is time to plant into individual pots. Keep plants cool and damp but not soaking wet. Grow on in the normal way.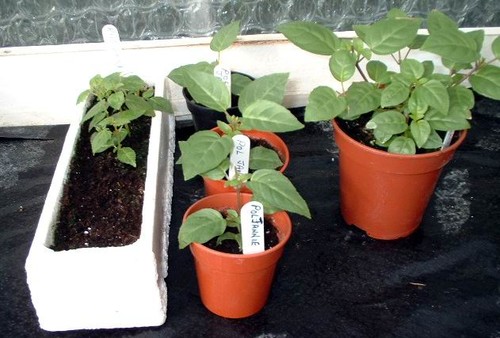 Image by: fuchsiabonsailady
cuttings, rooted cuttings, plant.