How do you count eyes and why?
caliloo
(z6/7)
January 1, 2013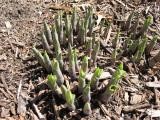 Image by: weed30
Lots of eyes
An "eye" (sometimes called a "nose") is the pointed tip of the hosta when it emerges in Spring. You count the number of pointed tips before they start to unfurl and the total gives you the total number of eyes.
Counting the number of eyes gives you an indication of how fast your hosta is growing, especially when it is young.
Contributed by Papou on the Hosta Forum