Hosta Humor, Tidbits and Fun
caliloo
(z6/7)
January 1, 2013
LAST DAY OF SUMMER
Last day of summer, what a bummer, Hostas startin' to die, Think I'm gonna cry,
So long Fire and Ice, It's been very nice,
See ya Christmas Candy, Sure has been dandy,
Wait what's this I hear, Hosta seeds, have no fear,
Who can say or who can know? What luscious seedlings you can grow?
Give it a try and you just may see, A cool streaked one, just like me,
So happy rest of summer all, This poem is corny, but I had a ball.
By Shade Tolerant
***********************************************************
A Few Nights Before a Hosta Christmas
A few nights before Christmas, Katsu in her house. Stirring up cookie dough as quick as a mouse..
Garden catalogs were placed by the chimney with care, Hinting for gifts of more hostas dollars to share.
Gardeners were nestled all snug in their beds, While visions of hostas danced in their heads.
Chocolate and her turkeys, Ken and his kids Shade and fenceberry Dreaming of hostas for bid.
When out on Kens driveway there arose such a clatter. Was it nematodes or slugs? Or just what was the matter?
Hey-J, and GREENGUY Paws4pets, too Ran to the window, Wondering what they should do.
The moon on the breast of the mountain of snow, Made us yearn for summer and August Moons glow.
When what to our wondering eyes should appear, Not Santa, no sleigh, no eight tiny reindeer.
It was Papou from Canada Out about in the night. Mapping hostaholics to Post on his site.
He was lively and quick And knew just what to do. Gathering names, and birthdays, And the every popular zip code, too.
There was Kines and Hosta Freak Lavendargirl whew! So many hosta lovers, Bound to miss a few.
How bout Marriedtomud Hybridizer extraordinaire Unrelated playinginmud Planting hostas with care.
Theres Mulchlady, teresa, and Michigans Patann The list could go on, As far as it can.
Yet, the map wont be complete, Without a special thanks to, The very heart of the Forum, Caliloo, Keeper of the FAQ
With his map job well done Papou headed back home. Bringing amazement to all How far hosta lovers roam.
But I heard him exclaim As midnight struck the clock, Wishing a Merry Christmas to all, And a hosta in every sock.
Marsha
AKA megaul
******************************************************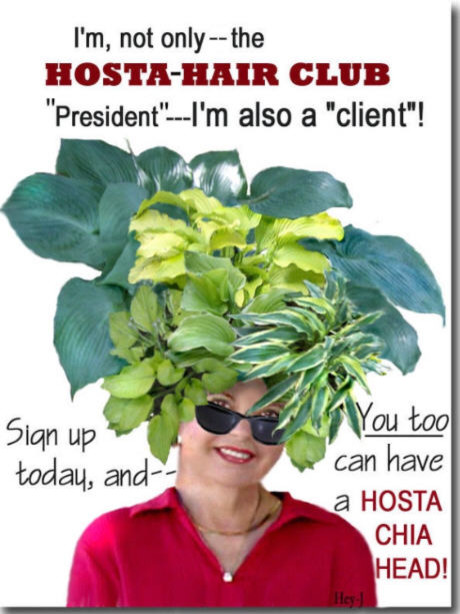 Hey_J looking her best!