Wire & Copper Art - Putting it all together
klynnnn
(z8 SC USA)
January 1, 2013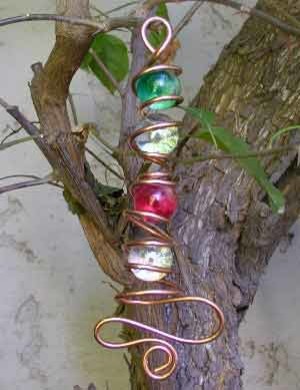 Image by: ZephyrSymphony
ZephyrSymphony's Wire Art Wire & Copper Art - Putting it all together
Member ZephyrSymphony offers these instructions:
As long as you stay in the 10-12 gauge wire range, it's pretty easy to work by hand. If you get down into the lower numbers - 4, 6, or 8 gauge - it gets tougher. For 10-12 gauge, all you need is a dowel and some good needle nose pliers. The dowel needs to be about the same size as the marble. With your hands, wrap the wire around the dowel a few times, then ease the marbles into the loops you made around the dowel.
The loopy thing underneath the marbles was just free form wire bending (with your hands). The hanging loop at the top and the smaller loop at the very bottom were formed with the needle nose pliers (a regular toolbox set, not a lightweight crafters one).
To keep from scratching up the copper wire, you can place a piece of fabric or leather between the pliers and the copper.
Once you get the hang of working with the wire, the whole piece (the one I made) will take about 5 minutes or so. The wire is pretty cheap and I got the marbles on sale. I think my total cost was about $1, maybe $2.
(Her piece is highlighted in the picture)
Hints, Tips and Comments from other members:
sonicsink says: As for keeping the marble in place... well I just kept wrapping the wire around it lol I know I'm not really helpful but I just looked at pictures and then bent the wire! I did have one plier that I stole out of hubbys workshop. I didn't use a jig at all I just did it all by eye.
CMWren recommneds: When you can, work with a longer-than-necessary piece of wire; feed the wire directly from the spool or coil it came in as you work it. The extra length gives you leverage, especially helpful when trying to bend thicker wire.
And, Mush tells us: This is very addictive.