Lampshade Luminaries
klynnnn
(z8 SC USA)
January 1, 2013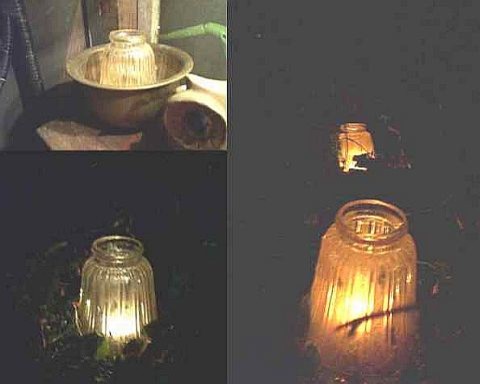 Image by: Nigella
Nigella's Nightlights
Lampshade Luminaries or "Nigella's Nightlights"
Garden Junk Member Nigella shares this quick and elegant garden junk craft:
The luminaries are made using glass lightshades from old ceiling fans sitting in brass or copper pots, or clay saucers - with a tealight providing the soft illumination (as seen in the picture).
Set them in the garden, along paths or wherever you need some extra light, or put out a few for your next night out (with citronella candles).
~~~
Special Note: The first time Nigella used her luminaries was on Halloween - displayed around an old gas mask "scarecrow" for an eerie illumination.