Wire Art - Blue Bottle Suncatcher
klynnnn
(z8 SC USA)
January 1, 2013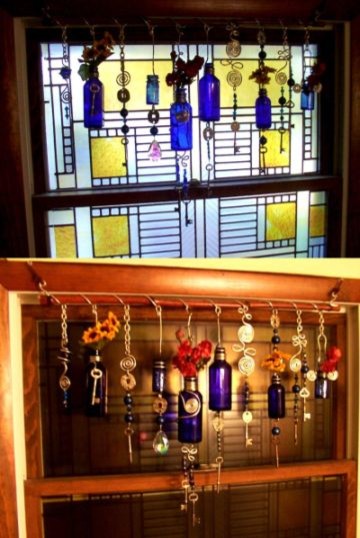 Image by: chaos_quilt
Blue Bottle Wire Art by chaos_quilt Blue Bottle Wire Art Suncatcher Dangly Thing
Another talented Garden Junk forum member shares a project with us
Directions for the "Twisty wire, blue bottle, dangley-thingie" by Member chaos_quilt
What was used:
* Dutch Boy lead-free silver solder wire * Oatey lead-free solder wire * Cobalt Blue Bottles * Piece of bamboo fishing pole cut to desired length * Various skeleton keys * Thin gauge wire * Green and Blue crystals * Blue beads (from thrift store necklaces) * Chain and various other doo-dads
How it was done:
I only used a pair of needle-nose pliers to twist the tight curls on the tips of each wire...I did wrap the tips of the pliers with tape to keep from scratching the soft solder. I used two different kinds of solder wire...Dutch Boy lead-free silver was the easiest to form curls with, but the Oatey lead-free was cheaper and sturdier, so I used it, too. The solder is very easily bendable with just fingers, and is surprisingly easy to make patterns with. Also, if you mess up your bend, you have a little leeway with the solder to unbend and start again...you just have to straighten it out carefully.
Each bottle has it's own hanger -either a loop in the solder, or a silver chain link...I took two long pieces of the Oatey solder, made a loop on one end of each, and inserted the other end into the hollow bamboo rod. Then I took a long piece of solder, attached it to the loop on one end, and spiral twisted it around the bamboo from one end to the other, attaching a bottle or key swirly at the bottom of each twist. Then I hooked it to the loop at the other end and tied on a shoelace to hang it from two tacks on the top of the window frame.
They all hang from a length of bamboo fishing pole that I cut short. I think you could just twist the solder around whatever kind of pole you're attaching the bottles to, though, and make a hanging loop at each end, but I wanted the solder to go into the bamboo to give it enough strength to hold all the weight. The skeleton keys are hanging on a thin gauge wire so I could fit lots of green and blue crystals on, plus some blue beads, all from old thrift store necklaces.
Hints and Tips:
The Dutch Boy solder was found in the plumbing department at $5 a roll. The Oatey, sturdier, was $6 for a longer roll. The bottom picture shows how everything is attached to the bamboo...this works really well to hold everything on, and was so simple to do.
When I am unwinding the solder from the roll, I really try to straighten it out...then just twisting and turning it by hand, it seems to curl just right. There is a lot of leeway in redoing the curls if yours don't turn out the first time, as long as you don't kink the solder.
The window is just glass with a cling on it. They let lots of light in but give a lot of privacy, and are under $20...