Wire & Copper Art - Wire Hoop Suncatcher and Stake
klynnnn
(z8 SC USA)
January 1, 2013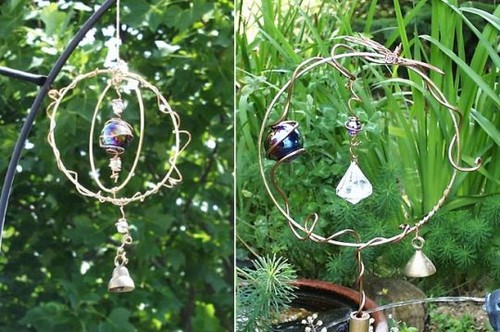 Image by: CMWren
Wire Art - Hoops
Wire & Copper Art - Wire Hoop Garden Stake and Hanger
Member CMWren shares more of her TIPS, and her wire art using metal craft hoops (shown in picture):
~You can make wonderful hooks for holding potted plants with heavy copper wire. Turn a coil on a large dowel (broom handle or closet pole) out of a piece of wire a foot or so long, add some kinks & curves, curl a "hook" on each end, try to keep the entire piece linear. Really large marbles (1.5-2+ inches) look good wrapped into the coil. Different finished lengths (4", 6", 8", etc.) will allow you to mix and match the pieces to hang a plant at "just the right" height.
~Varnish craft hoops (with spar varnish - a marine grade, "weatherproof" sealer) and allow to dry thoroughly before wrapping them with copper wire if you want them to stay shiny. They can not be polished back to their original color and shine. Leave them bare to weather on their own if you like the rusted look.
~Also, some people spray on a solution (unknown concentration) of Miracle Grow plant food to get instant verdigris on copper.
And last, but certainly not least: Be forewarned: working with copper wire is addictive. And you will start getting funny looks at the hardware store until you show folks what you are doing. Then they will be jealous that they didn't think of it first.