Wire & Copper Art - Technique / Basic Wire Samples
klynnnn
(z8 SC USA)
January 1, 2013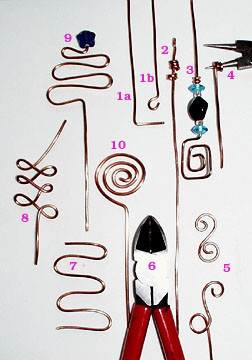 Image by: CMWren
BASIC WIRE SAMPLES
Key for photograph on basic wire technique:
1a. Starting an eye pin
1b. Bending the eye; close loop to complete
2. Turned beads, varying # of turns for different widths
3. Crimp bead: a one-complete-turn bead made on RNpliers, place it under the last decorative bead, then use regular needle nose pliers to squish the crimp bead onto the wire; keeps bead(s) from sliding
4. Turning a bead on round-nosed pliers
5. Scroll shapes
6. Wire cutters, heavier duty than the little ones (easier to use)
7. Squiggle shape, even width
8. "lace" shape
9. graduated squiggle; can be, as here, capped with a bead (use glue)
10. flat round spiral... Be creative: square, diamond, triangle, etc. Use for hangers or picks (shape up) or as dangles (shape down).
See Wire Spirals FAQ for samples.
Thanks to CMWren for providing this information