Chip and Dip Junk Birdfeeder Directions
klynnnn
(z8 SC USA)
January 1, 2013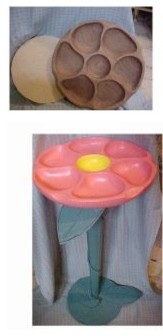 Image by: crystalsnap
Crystal's Chip and Dip Birdfeeder
"Chip and Dip" Birdfeeder
Member crystalsnap gives us her directions for making this "Chip and Dip" birdfeeder:
Items Used
*Old wooden chip and dip tray * Old wooden leg * Circle cut from MDF * 1 Sheet Fun foam (cut into leaf shapes) * Plastic tubing (the kind you use in fish aquariums) * Hot glue * Finishing nails *Wood screws * Wood glue * Paint: Dusty green, coral rose, and yellow
Putting it Together
Screw the tray to the top of the leg and then screw the MDF circle to the bottom of leg, being careful to center them both. Recess the screws also. Paint bottom, leg, plastic tubing and fun foam leaves dusty green, (2 coats) let dry. Paint "petals" on tray coral rose and paint center yellow,(2 coats) and let dry. After everything is completely dry you can then add the plastic tubing, I cut it at an angle and butted it right up against the leg on the bottom and hot glued in place and then used a very small finishing nail and tacked into place just for extra security. Then twist it around the leg and attach to the bottom of the tray, next to the leg in the same manner. Then hot glue the leaves into place. ENJOY !!!
Crystal's Comments
It is one of those old chip and dip trays, I bought it for a dollar and it was in great condition, no crack or anything of the sort. The leg is tapered, it is from an old organ that wasn't working anymore and the bottom is a circle cut from a piece of MDF. The leaves are fun foam, I figured that fun foam would be better as to not break as easily. The vine running up the leg is some old plastic tubing, the kind that you use in aquariums. I just painted all of it with acrylic paints and then varnished with Future floor polish, YES, I said Future floor polish. It makes for a great varnish. I use it for everything.
Regarding the Future, I'm not sure about the yellowing or chipping part. I plan on sitting this on my screened in porch just as decoration now. I don't want it knocked over and I dont want bird "droppings" all over it. I was thinking about getting a small circular piece of glass to put on top and use it as a side table on the porch.