Plastic Pot Recycling - Black plastic nursery/flower pots #1
klynnnn
(z8 SC USA)
January 1, 2013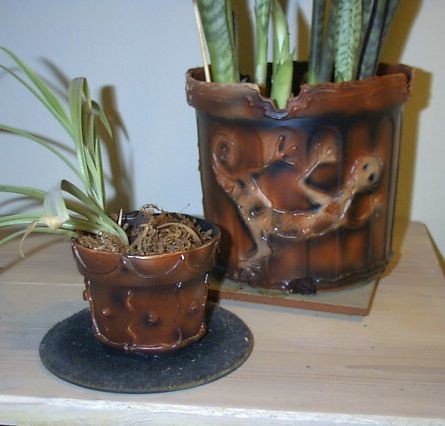 Image by: hyperdoggie
Recycled Pots
"Plastic Pot Recycling - Black plastic nursery/flower pots"
What can you do with all those black plastic pots from the nursery you have leftover after planting your garden beds?? Member hyperdoggie shares her artistic ideas with us :
First, take your cheap, ugly pot and wash it completely. Next, use an X-acto kife and scissors to make sure the drain holes were clean, and at this point you can also cut a decoration into the lip of the pot. On the larger one in the picture, I made a little southwest cut out, and perhaps on the next one I'll poke some holes around the lip and weave some jute string around it.
Next, I scuffed the whole surface with steel wool, and then I took my hot glue gun and begin "drawing" decorations on the pot. I ran some of the glue around the lip to make it fatter, like real terra cotta. After it is set, I trim off the little threads from the glue, if you can't get them all, it is OK. I then painted the whole pot with a taupe colored latex house paint, and also inside the pot about an inch. I let this dry over night. The next day, I sprayed a terra cotta red color over the pot, making sure to spray thinner in some spots, thicker in other to make the smoke-clouding effect of real pottery that is fired in a kiln. I did use an airbrush for this but I am sure you can use spray paint effectively. I am sure a sponge technique would work just fine also. I then sprayed on some black paint to add depth to some spots, and more "smoke clouding". Again, I let this dry overnight, and the next day sprayed with a Krylon clearcoat.
The picture here contains the Southwestern theme pots ... see other "Recycling Plastic Pots" FAQ's for additional ideas.