Bowling Ball Caterpillar
klynnnn
(z8 SC USA)
January 1, 2013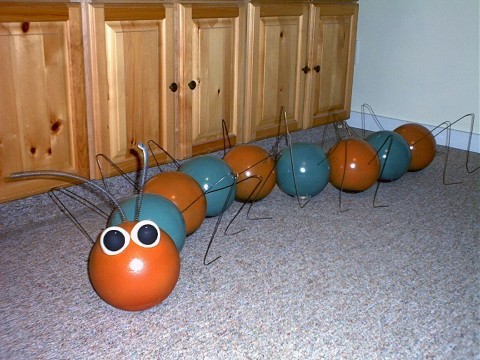 Image by: Bunky
BBall Caterpillar
Bowling Ball Caterpillar
Bunky created this 'bug caterpillar' and is planning to put it out on her 700 foot driveway for all to see.
How to put it all together
The balls were spray painted a couple of times with paint from WallMart. The legs are heavy wire coat hangers. She then drilled holes and inserted the legs with, garden junks' favorite glue, GE Silicone II. The individual balls won't be attached, as they will be "dropped" into soft dirt after the snow falls. I'm also thinking of adding a nose/mouth.
Note on drilling the holes: A regular drill bit was used and Bunky says, "It stinks when you drill into a bowling ball though! Some are pink inside, some white and some stay black."
Bunky loves seeing things in her garden that makes her "smile". And I think we can all agree - This guy does it!
.......stay tuned for her spider!