Plastic Pot Recycling - Using Yogurt Cups #2
klynnnn
(z8 SC USA)
January 1, 2013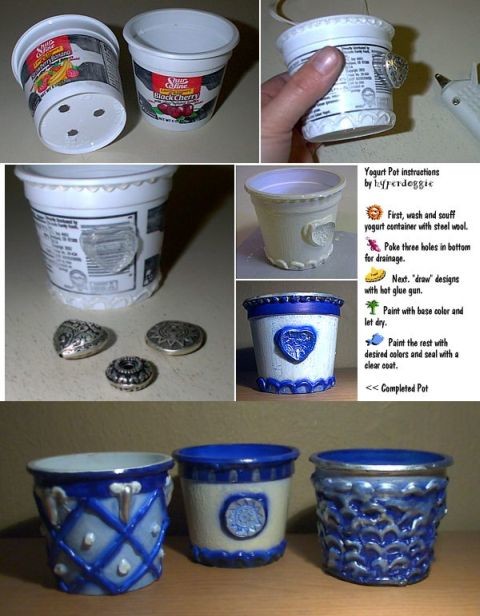 Image by: hyperdoggie
Yogurt cups revamped
"Plastic Pot Recycling - Using Yogurt Cups"
Again, Member hyperdoggie share another idea this time using plastic yogurt cups and a blue and white theme:
The picture details out the steps of the project and here are some additional hints and tips:
They are for my kitchen, which is blue/white themed, so I decided I'd try and make them look like blue white pottery. Basically it's the same technique as the black plastic pots, but I did more hand painting of the colors and added in some silver gilding color before clear coating, and I also used a glossy clear coat so they would look glazed. I also poked holes in the bottom for drainage.
It will be ugly after the application of glue, but as you can see, it doesn't matter at the point, jus how it looks in the end.
I don't have much qualms about using the hot glue for outside pots, I have used it for other applications outdoors and it has stood up fine to our New Mexico sun, but my potted plants here are usually in shade anyway. I am going to try using silicon sealant to get some wider designs on the larger pots.
The "seal" look is where I applied a circle of hot glue and pressed a large bead that had a nice bas relief into it. I let it cool, then peeled the bead away.
The hot glue kind of "melts" a little into the plastic, on these cups and the pots, it doesn't want to peel off once it's on. Also on the blue pot, you can see a little bit of a "crackle" on the side, I put what I call "poor man's crackle" on it, instead of buying the craft store crackle mediums, I painted on thin stripes of sligtly thinned elmer's glue. Paint over it, and it crackles.