Wire & Copper Art - Adornments, Embellishments and Tools
klynnnn
(z8 SC USA)
January 1, 2013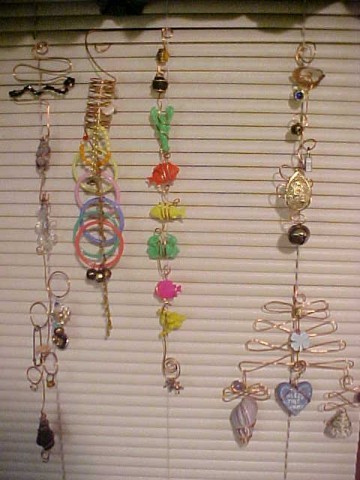 Image by: Yukon_Gold
Yukon_Gold's Wire Art
Wire & Copper Art - Adornments, Embellishments and Tools
Adornments and Embellishments
A variety of objects can be used to decorate your wire art piece such as:
* Large or small marbles * Prisms/Crystals (from chandeliers) * Bells, whistles, and baubles * Buttons * Beads * Stones * Charms * Stained glass pieces and/or Beach glass * Broken or unwanted jewelry that still sparkles * Junk from your junk drawer * Doodads from your toolbox * Plastic marbles off the elastic hair tiebacks * Seashells from your last vacation * Suitcase padlocks that lost the key * Childrens metal toy jacks
Use what you have and items that will withstand the weather for a time ....
It's your art - design it however you'd like and make it personal!
What tools to use
* Wire cutters, light, medium and heavy duty * Pliers: needle nose, round nosed, and "everyday" (heavy wire cutters come as plier/cutter combo) * Dowels of various sizes -- cheap chopsticks, broom handles, wooden closet bar (check store for scrap ends of closet poles cut for other customers) * Rubber/latex gloves for better grip and less smelly, less green hands
The diameter of the rod you use will determine the tightness of the spiral you are after. You can twist the wire by hand but it may help to have a pair of pliers handy.
Notes from our members:
Yukon_Gold tell us: I bought basket of larger seashells at dollar store for a buck, got other jewelry odds & ends, shiny buttons, brass jingle bells all for a donation at a Humane Society yard sale. The wooden heart was lettered "Bless This Home" by a child's hand, and I loved it. I used a combination of wooden spoon handle, old thread spool, pliers to make the bends in the wire ...... Not a lot of flourish, but I look at this art as having items of interest and something unusual to look at out in the garden areas. The fish copper art could go near a pool or hot tub.
Mush adds this about her embellishments: The white thing is a little shell on top of a heart-shaped bead. The glass is beach glass that I have collected on trips to Barbados. And, YES, I am hooked!
sonicsink says: I used wire that I got at the hardware store, marbles from the dollar store and crystals from an old chandelier that my parents were throwing out last year. And in another one - a super jumbo marble, one of many my dog found in a field about 5 years ago..even my dog is a junker LOL!
~~~
TIP: To get nice even 3D coils, use wooden dowels: chopsticks, 1/4", 1/2", 3/4" dowels, broomsticks and wooden closet bars. Wrap the wire close but not tightly around the dowel a few turns in one direction, then do a kind of twist to add a kink before continuing with a spiral in the opposite direction; this makes it much more visually interesting, good for a vine-like effect. Don't wrap the wire too tightly around the dowel or you might not get the wire off of the dowel.
Once you've removed a 3D wire coil from a dowel, you can tighten or loosen it holding one or both ends of the wire and twisting your hand/hands.
Wrap a couple turns of wire around a dowel that's about the diameter of a marble to make a starter socket for the marble; it's easier than trying to wrap the marble free-hand.