Recycling Plastic - Sunface (2 of 2)
klynnnn
(z8 SC USA)
January 1, 2013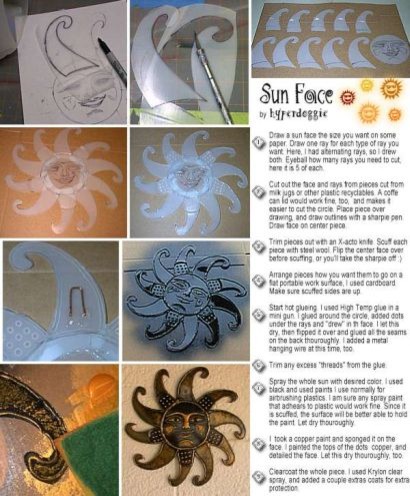 Image by: hyperdoggie
Sunface How-To
Recycling Plastic - Sun Face out of Milk Jugs (2 of 2)
Member hyperdoggie shares the detailed step-by-step instructions for her sun face made from a plastic milk jug, the written instruction from the picture is also outlined below since they are a bit blurry in the picture:
1) Draw a sun face the size you want on paper. Draw one ray for each type of ray you want. Here, I had alternating rays so I drew both. Eyeball how many rays you need to cut out, here, it is 5 of each.
2) Cut out the face and rays from pieces cut from milk jugs or other plastic containers. A coffee can lid would work fine too, and it makes it easier to cut the circle. Place piece over drawing and draw outlines with a sharpie pen. Draw face on center piece.
3) Trim pieces out with an Xacto knife. Scuff each piece with steel wool. Flip the center piece over before scuffing or you'll take the sharpie off.
4) Arrange pieces how you want them to go on a flat, portable work surface, I used cardboard. Make sure scuffed sides are up.
5) Start hot glueing. I used High Temp glue in a mini-gun. I glued around the circle, added dots under the rays, and "drew" in the face. I let this dry, then flipped it over and glued all the seams on the back thoroughly. I added a metal hanging wire at this time also.
6) Trim any excess "threads" from the glue.
7) Spray the whole sun with desired color. I used black, and used paints I normally use for airbrushing plastic. I am sure any spray paint that adheres to plastic would work fine. Since it is scuffed, the surface will be better able to hold the paint. Let dry thoroughly.
8) I took a copper paint and sponged it on the face. I painted the tops of the dots copper, and detailed the face. Let this dry thoroughly too.
9) Clearcoat the whole piece. I used Krylon clear spray, and added a couple of extra coats for extra protection.
In FAQ #1 of this set, you can find the drawing of her sun face which you can print out and copy