Tea with the Birds Critter Feeder
klynnnn
(z8 SC USA)
January 1, 2013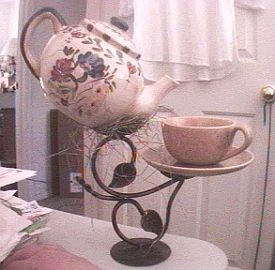 Image by: CheezCayke
Critter Feeder
Member CheezCayke shares her "Critter Feeder" instruction with us: ....
The base and the teapot came from Big Lots, the teacup was a thrift store purchase. The base is a candle holder (the kind that has the spikes in the middle to hold a pillar candle). I pounded the top of the spikes flat, just a little, to make it a connection point. I figure the more places the ceramic touches the metal and can be glued the better.
I used Krazy glue to glue the cup and saucer to one side and used something heavy to balance the other side until it was cured and secure. Then I just played with the teapot, balancing it until it fit securely on the other holder and also balanced the whole piece so it wouldn't tip. I Krazy glued it wherever the metal was touching.
I let the whole thing cure overnight then used epoxy and a toothpick to reinforce the connections. I've wiggled it and tried to pull it apart, so far so good!