How do I keep the red lily leaf beetle from destroying my lilies?
claireplymouth z6b coastal MA
January 1, 2013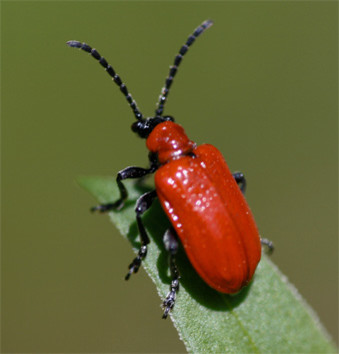 Image by: Wendy Richardson
Adult Red Lily Leaf Beetle ORIGIN: The red lily leaf beetle (Lilioceris lilii) is an insect native to Europe and Asia which rapidly spread through New England from Eastern Massachusetts and which has been also been found in Northern New York State. The original infestation in New England was detected in 1992 in Cambridge, Massachusetts, although the beetle has been active in the Montreal, Canada, area since 1945. There are recent reports that the beetle has been seen in Alberta, Canada, since about 2005.
DAMAGE: If uncontrolled, the beetle will completely defoliate and ultimately kill all true lilies (Lilium species, such as Asiatic, Oriental, Easter, Tiger and Turk's Cap lilies). It will also feed on Fritillaria species, and many other plants, although the primary targets are Lilium and Fritillaria species.
DESCRIPTION: The adult beetle is bright scarlet red, with black legs, head, antennae and undersurface. It is 1/4" to 3/8" long and is a strong flyer. The beetle reportedly will squeak if squeezed gently (however, few gardeners are willing to be gentle to this beetle). The adult lays reddish-orange eggs which hatch into particularly unpleasant larvae, which look like 3/8" long slugs; colored orange, brown, yellow or green with black heads. The larvae cover themselves with their own excrement (known as a fecal shield) which apparently repels predators, including gardeners who are generally very reluctant to handle the larvae. The larvae eventually become fluorescent orange pupae.
LIFE CYCLE: The adult beetle overwinters in the soil or plant debris and emerges in early spring looking for food and a mate. After mating, the female lays eggs in lines on the underside of Lilium or Fritillaria leaves. Some damage is done by the adults at this time, but the major damage comes when the eggs hatch into larvae in 7-10 days. The larvae voraciously consume all leaves within reach and may then start on flower buds. This continues for 2 to 3 weeks, when the larvae then drop into the soil and begin to pupate. In another 2 to 3 weeks the adult beetles emerge to start eating again. This process occurs from early spring to mid-summer. Reportedly the beetles won't mate and lay eggs until the next spring.
FIRST REPORTED SPRING SIGHTINGS:
2003 - April 21 in Massachusetts.
2004 - April 18 in Massachusetts.
2005 - April 9 in Massachusetts and also in south coastal Maine.
2006 - April 9 in Massachusetts.
2007 - April 19 or 20 in Malden, MA, reported by michaelb_maz6.
2007 - April 22 in Amherst, MA, reported by pattioh.
2007 - April 24 in Haverhill, MA, reported by chazparas.
2008 - April 15 in Billerica/Lowell, MA area, reported by a neighbor of littleonefb.
2008 - April 17 in Burlington, MA (heavy infestation) reported by a friend of littleonefb.
2008 - April 17 or 18 in Malden, MA,...