What groundcovers are recommended for New England gardens?
claireplymouth z6b coastal MA
January 1, 2013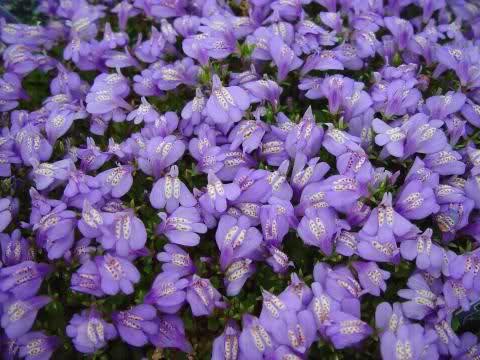 Image by: Rubby
Mazus reptans This thread was posted by runktrun on the New England Gardening Forum, and has been added to the FAQ because of the valuable information contributed by many forum members. ======================================================================
Covering the Ground
Posted by runktrun z7a MA (My Page) on Tue, Sep 20, 11 at 18:03
I don't know if it is because of my hunch back, shy persona, or lack of coordination but I am one of those folks who at a comfortable daydreaming stride always have my head slightly hung with my eyes to the ground. If I am distracted and not really paying attention to my surroundings I would at a later date be far more able to describe what I saw on the ground than hanging from a wall or tree. This is why I find it odd that I have for the most part shied away from groundcovers. In the two garden areas that I have used groundcovers I am head over heels with the effect and function (lack of weeding). I am presently in the process (I know bad timing) of reconstructing a couple of different areas and would love to get some groundcovers planted as well. My latest obsession is Asarum and I am wondering what your experiences have been with any type of Asarum or if you have any experience good or bad with ground covers that you might share.
____________________________________________________________________________
Follow-Up Postings:
Posted by molie z6 CT (My Page) on Tue, Sep 20, 11 at 19:27
I was given some clumps of Asarum europeaeum two springs ago. I planted it in a shaded area along the chimney and it's thriving. It's a tough plant that does not require special care but it's slow growing so I consider it more of an accent plant in my garden.
One groundcover I have that really surprised me was Veronica Waterperry Blue. I bought a few small plants about five years ago and planted them in part sun area in front of a large rock. The blue flowers put on quite a show in the spring, covering the whole plant, and then bloomed sporadically in the summer. What I also like about this plant is the fact that the leaves change color in the cooler fall weather, kind of purple/red/green.
Last summer I moved some into two other areas. One cluster was put in a very sunny spot in my long garden. These have taken off as well and now creep over the stepping stones. The other clumps were put along the foundation at the front of our house, which gets just morning light and even less behind my Cornus Kousa 'Wolf Eyes.' The long and the short of it is that wherever I've put Waterperry, it has thrived.
Molie
____________________________________________________________________________
Posted by nhbabs z4b-5a NH (My Page) on Tue, Sep 20, 11 at 21:02
I love the added texture and ease of care of a great groundcover. Like Molie, I find Asarum europeaeum to be a slow spreader, though it's lovely. Mine is in mostly...