What does a new veggie gardener in New England need?
claireplymouth z6b coastal MA
January 1, 2013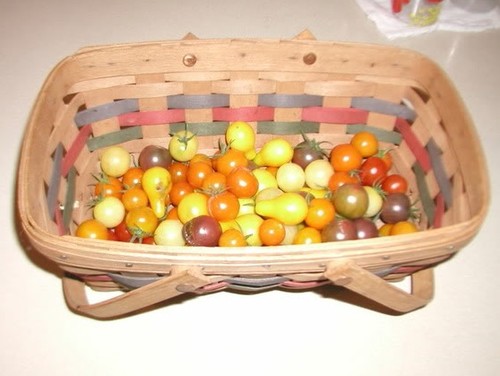 Image by: pixie_lou
Wonderful basket of cherry tomatoes This is a thread that was posted in the New England Gardening Forum in September, 2013. A few minor edits have been made to correct typos, but otherwise the content is as posted.
Claire
-------------------------------------------------------------------------------------------------------------
What does a new veggie gardener need?
Posted by ontheteam 5a-6 (S.Eastern, MA) (My Page) on Sun, Sep 15, 13 at 21:51
Hi gang! A friend of mine wants to start growing her own veggies. She asked me what she would need to get started...and I drew a blank LOL It's been a long time since I was a newbie. SO I told her
1) A strong back
2) hand trowels
3) a pitch fork
4) a square headed shovel
what would you say?
I also told her to make her plot area now by laying manure down covered with several layers of news papers. â¨What do you think is the best way to start a veggie plot from scratch? â¨She may stop by because no new gardener advice would be complete with out a link to this forum lol..I know you all will be super kind and helpful to her!
Follow-Up Postings:
------------------------------------------------------------------------------------------------------------- RE: What does a new veggie gardener need?
Posted by defrost49 5 (My Page) on Mon, Sep 16, 13 at 7:59
I like to start beds using the lasagna method so wet newspapers go down first than top with alternating layers of green (fresh grass clippings, kitchen waste) and brown (chopped leaves). I top with composted manure in the spring. Bed should be about 24" high. It will settle, compost, etc over winter. Using the lasagna method, you don't need a tiller.
I use a spading fork but also have a hay fork for grass clippings,etc. â¨- hoe for making rows â¨- a really good hand weeder. I originally had a Cape Cod weeder and use something similar. I think a Cobra headed weeder is also similar. I never find a good hand weeder in any store. I think she'll have to order this unless there's no witch grass within 10 miles. This is esp good to use if you have wild sorrel that sends out runners. Drag the L-shaped weeder thru the soil to get as much of the roots as possible. I usually find several little plants attached to each other. â¨- garden gloves. I like the inexpensive cloth ones with fingers and palm dipped in rubber. Better to grip weeds with and keeps my hands from getting worse callouses. â¨- 5 gallon buckets. Great if you can find them free from a dry wall cdntractor. â¨- liquid fish or seaweed fertilizer. Great when you transplant to give plants a little boost. â¨- a really good seed catalog. I love my local farm store but there is a far better selection from catalogs. I think Confection winter squash from Johnny's is the best. I also like poona keara cucumbers. But it's also good to find a really good source of...