My Stupidest Garden Mistake - or - We Were Once All Newbies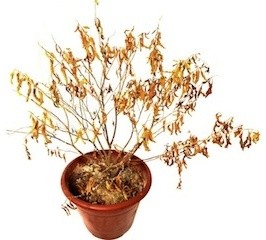 Many thanks to ChrisMD for saving this excellent thread which reminds us that we all make mistakes. Those mistakes are often funny and always a learning opportunity!
* Posted by: PattiA6290 7b ) on Sat, Feb 9, 02 at 8:17
A friend of mine had her son-in-law plant several hundred tulips for her one year. That next spring none of them came up. Miffed she was gonna return them to the nursery where she buys all of her plants. After she started digging them up she notice he had planted them all up side down. lol
* Posted by: Iris_gal z9 CA (My Page) on Sat, Feb 9, 02 at 1:52
Humorous now, but not then. I had a salad ready for company but had forgotten to pull up green onions earlier in the day. I knew where they were in the dark and in the kitchen began slicing - hmmm, don't look quite right - a taste confirmed they were not onions! I'd pulled up young Dutch iris. The 2 are not planted in proximity now.
* Posted by: ilovecountrylife z5 MI on Sat, Feb 9, 02 at 14:44
the very first year I started gardening was when I bought my first house. The previous owner had a 3' by 3' bed where she started seeds. I decided I was going to make it into a herb garden. I bought $50 worth of herb plants, chives, basil, tarragon, thyme, oregano, sage, etc, etc, etc, etc, etc. I planted them ALL in that little tiny 3'X 3' bed. Needless to say they crowded each other out and only the strongest few survived. I still laugh when I think about it.
* Posted by: Karenga 7 on Sat, Feb 9, 02 at 20:07
What a great post!! I make many many mistakes, so now I feel a little better. I tried digging up tulip bulbs one year, speared every one but two. I don't bother with them anymore!! Planted a wildflower bed, then heavily mulched it. Tried starting some seeds in flats, forgot the drainholes. Planted some huge flowers at the front of my border. Just a few examples. Unfortunately that is just scratching the surface. ha ha.
* Posted by: Janet 5 SE MI on Sat, Feb 9, 02 at 20:51
So many mistakes! Sunlovers in shade, tall in front, weeding out plants I want, I can go on and on!
* Posted by: plantynut 7 Long Island on Sun, Feb 10, 02 at 8:23
I admired Carpet Rose in my favorite nursery for 2 summers. Finally last summer I bought one and put it in a flower bed in front of my house. What a mistake. It was too sprawling, the thorns are killers and flowering was less than spectacular. I plan to yank it this spring.
* Posted by: Karen_in_4 Mpls 4 on Sun, Feb 10, 02 at 8:32
Was cleaning up the seeds shed by my Dutch Elm tree off the sidewalk. Thinks I to myself, "We don't throw away things that can decompose and turn to dirt." So I throw hundreds and thousands of seed pods onto my rock garden. Spent the entire remainder of the summer pulling little elm tree sproutings out of the garden. Doh!
* Posted by: Shirleb 7b TX on Sun, Feb 10, 02 at 9:40
I have made MANY mistakes but the...