Can I save my seeds in plastic envelopes instead of paper?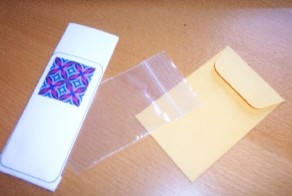 Image by: wintersown
Paper or Plastic? It's your choice. Yes you can.
Whether you save your seeds in plastic or paper envelopes is a matter of personal preference. If you choose to save your seeds in plastic envelopes you must assure that the seeds are bone-dry!
Why do they have to be bone dry?
Seeds that aren't thoroughly dry will distribute their moisture throughout all the seeds in a plastic envelope, they can rot from mildew and won't germinate.
How do I do assure that the seeds are thoroughly dry?
Let your seeds dry on an open plate or in an open bowl for several days after harvesting. Stir them occasionally to allow the seeds on the bottom layers to be exposed to the air.
How do I tell that they're dry?
Dry seeds are very loose, they don't cling to each other, they move quickly and easily across a plate.