Coneflowers ~ Echinacea Purpurea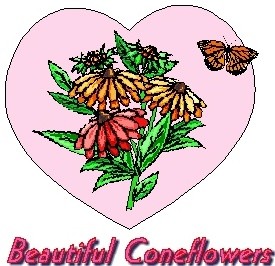 Image by: wintersown
Harvesting coneflower seeds is a painful process. The seeds form in cones atop the stems yet they are protected by "guard spikes" which can puncture your fingertips. OUCH!!!
I would like to thank *Windy007* for providing the great seed saving tip for this FAQ.
Thank you Windy!
===================================================
If you soak the head in some water for a short while, the bristles get limp and you can break the cone in half and the seeds practically fall out on their own.
Dry them in the sun before storing them.
Just don't soak them 'til they germinate. It doesn't take long at all to get the spikes to soften.
+++++++++++++++++++++++++++++++++++++++
Windy, how did you find out about this?
"The way I found out was by accident. It had been rainy and overcast for a few days and I decided between the rain storms, I would sneak out and snip off some of the coneflower heads. To my surprise, the cones were supple instead of the usual brittle hard things they usually were."
"Also, I decided to just cut them all off since it appeared that they were through flowering and the stem was sort of turning brown. The next time the heads were ready to harvest, I just dipped them in a bowl of water for a while, until they began to soften."
"Now after getting rid of all the seed heads I have a flush of new flowers growing! It is really nice to have flowers again instead of dried stalks and foliage."
========================================
Thank you again Windy! You're WONDERFUL!