Poppies ~ Papaver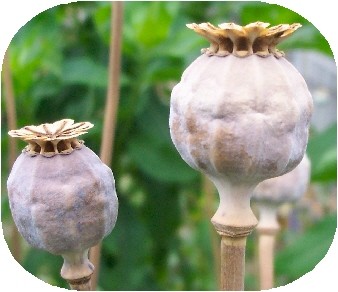 Image by: wintersown
Seed capsules ready for harvest.
Poppies are among the very easiest of flowers to gather seeds from. There are many varieties of annual and perennial poppy and the seed gathering method is similar to all.
Allow the poppy to flower and do not deadhead. The petals will drop and a seed pod will develop at the end of the stem. When the seeds have matured the capsule will brown and make a series of small openings just beneath the crown cap of the pod. These openings function similarly to a salt shaker whereas the seeds can be poured from the dried pod.
Gather the pods after they have browned and made seed dispersal openings. Allow them to dry for a week or so on a plate in a warm room. Afterwards the pods may be turned upside down and the seeds will then fall from it. A few taps on the pod will help to remove all the seeds from within.
Poppy seeds are very small black balls. They are often used in baked foods such as poppyseed streudl or poppyseed rolls and bagels, or they can be tossed with buttered noodles.