Coreopsis grandiflora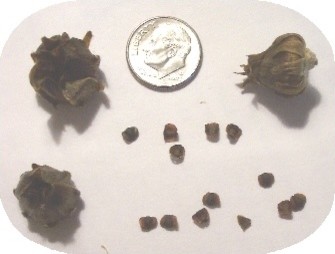 Image by: wintersown
Coreopsis grandiflora pod and seeds Coreopsis grandiflora is a large showy perennial with bright and cheery golden ray flowers.
Allow the flowers to mature and die back naturally. The petals will drop and form a seed pod where the center of the flower was. This will swell and mature to a deep russet brown, soon afterwards the stem below the pod will brown as it dies back. The pod will open in cup-like fashion, inside will be about a dozen small scale-shaped seeds an 1/8" in size. They are two-toned dark brown, with a darker greyish-brown stripe vertically centered in the middle of the seed.