Lupine ~ Lupinus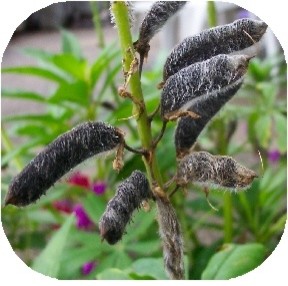 Image by: wintersown
Mature Lupin pods Lupins are part of the large Legume family. The flower color range includes purple, blue, pink, white, or yellow.
Wait until the seed pods turn a greyish-black, you should be able to easily remove the pods from the plants at that time. Allow the pods to dry on an open plate, split them open and remove the seeds. Seeds are small rounds about a 1/4 inch in diameter, dull greyish-brown in color, three or four seeds per pod seems the norm.