Love-in-a-mist ~ Nigella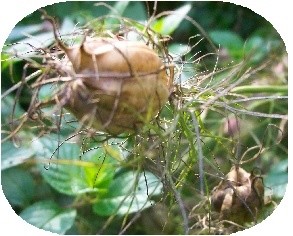 Image by: wintersown
Fantastic nigella seed pods. Nigella produces lacy dill-like foliage with pretty flowers in the blue, white, rose, and lavender range. When mature the ornamental seed pods are a dull medium-green striped vertically with deep maroon bars. The pods are a favorite choice for dried flower arrangements.
To harvest the ripe pods for dried arrangements cut the stems close to the base of the plant. Group several stems together, binding them with a rubberband, hang the cluster of stems upside down in a warm dry room room such as an attic or garage, and well out of direct light. Allow the stems and pods to dry for several weeks before trimming the stem ends to an appropriate vase length.
Nigella seeds will mature in a multi-chambered pod, it is puffy or ballon-like in appearance, and has stripes of green alternating with maroon when ripe. Remove the ripe pods and simply pull them apart to remove the seeds. Inside are dozens of small dull-black seeds, they look like very tiny chips or flakes of charcoal. Allow the seeds to air dry for a few days before packaging.