Bachelor Buttons ~ Centaurea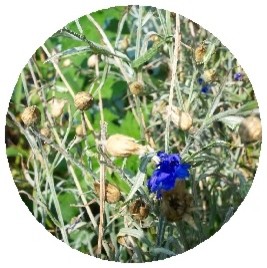 Image by: wintersown
Light Brown Seed Pods Bachelor Buttons are an easy to grow old-fashioned annual. They are also named cornflower as the plants are often found growing along the edges of farm fields.
Allow the flowers to mature and fade on the plant, do not remove fading flowers and allow the petals to drop naturally from the bud. The maturing seed pods develop at the base of the flower, they are shaped like fat and green slightly oblongated balls. At maturity they turn light tan to paper-bag brown and the end of the pod will open to allow for seed dispersal.
Remove the pod and allow it to dry for a few days. With your thumb rub open the end the pod, the loosened seeds should release freely from the pod. The are a light wheat color and are shaped like small teeth with a short tuft of hair on the wide end.