Silene ~ Catchfly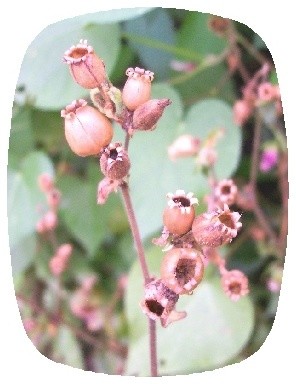 Image by: wintersown
Cup shaped seed pods. Silenes are a large family of endearing wildflowers, blooming in the white, pink and red color range. They all have in common the ease to collect their seeds. Silenes produce seed pods that are shaped like cups. Some varieties make seed pods that are short and squat and some may be narrow and more slender in appearance. Regardless of their shape they are all still all cups and the seeds, when fully mature, will spill from them with ease.
Allow the flowers to mature and the petals to drop naturally from the plant. At the base of the flower will develop a green pod, it will swell as it matures and then turn from green to brown.
When the seeds are fully developed you will notice that the end of the pod has widened and created a single opening. This is a clear signal of mature seeds. Remove the pod from the stem, let it dry for a few days and spill out the seeds.
To facilitate the removal of seeds from many pods at the same time you may place them into an old-fashioned flour sifter held over a wide-brim bowl and use the hand crank to activate the sifters. The jiggling motion of the sifters will knock the seeds from the pods and they'll drop through the sieves to the bowl below. Easy!