Gaura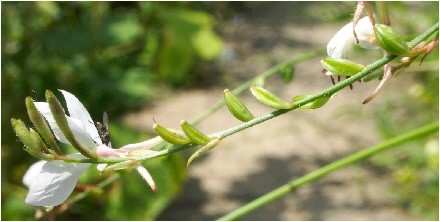 Image by: wintersown
Developing Gaura Seed Pods Let the flowers mature on the stems, do not pinch off the old flowers, and do not remove the stems after blooming is complete. Where the flowers were on the stem will form small green football shaped protusions. These are the developing seeds. They will turn a dark greyish-brown when they are mature, and they are close in appearance to a very large caraway seed.
Seed removal will be easy at this stage...perhaps too easy. The seeds will drop into your hand with the slightest touch. This easiness of seed dispersement from the plant might be why you don't see the seeds, it's because they've fallen to the ground already.
Gaura plants are very easy to collect seed from, you will need to check the stems frequently to collect the seeds before they drop from the plant. The seeds will mature at a staggered rate and so you can collect seeds from these plants for several weeks.