Daylily ~ Hemerocallis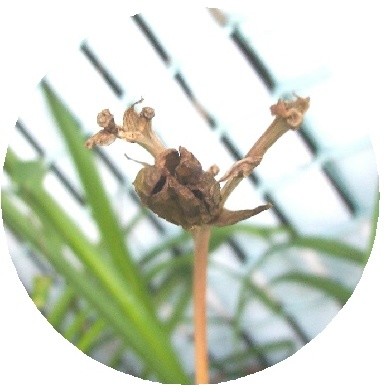 Image by: daylily
Pod of ripe daylily seeds.
Daylilys are very easy to gather seeds from. Allow the flowers to fade and drop naturally. If the flower was fertilized a green seed pod will develop where the flower was attached to the stem. Not all daylilies will be fertile and so some plants may never produce seeds. Nor will all flowers of fertile daylilies produce seeds. Some varieties will produce more seeds pods than others.
Allow the developing green pod to swell and grow. When the seeds are near maturity the pod will begin to wither and brown. When the seeds are ripe the pod will open at the end to disperse the seeds. At this stage the pod can be removed from the stem. Place the pod on a plate and allow it to dry for a few days.
To remove the seeds split the pod open along its seams and gently nudge the seeds out. The seeds are roundish and a shiny black. Depending upon the variety seed size can be between an 1/8 and 1/4 inch wide. Daylily seeds are thick and should dry for a few more days before being packed.