Plains Coreopsis/Calliopsis ~ Coreopsis tinctoria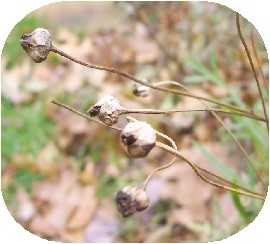 Image by: wintersown
This lovely annual wildflower has cheery daisy-like two toned flowers of gold with a mahogany eye.
Seed collection is easy. The pods will develop at the base of the flower turning from mahogany to dull tan at maturity. Once they are dry simply strip them off the plants. Allow the pods to dry on an open plate for a few more days, then crumble the pods and the tiny seeds come out. The deep brown seeds are quite small, as narrow as steelwool splinters and about an 1/8" long.
You may use a fine kitchen sieve to remove the largest pieces of chaff. Seeds are often traded with some chaff and sowing instructions should include to surface sow the packet contents.
If desired the chaff may be separated by placing the filtered seeds with remaining chaff into a pan with deep sides...a round cake pan is a good choice. Take the pan outside when there is a light breeze and begin to swish the seeds around in the pan, puff softly onto the seeds and it will lift the chaff up into the air; the breeze will carry off the chaff. Do NOT bounce the seeds or puff hard as the seeds will leave the pan.