Marigold ~ Tagetes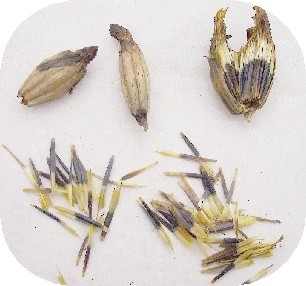 Image by: wintersown
Pretty and easy annual marigolds; I can't imagine a garden without them. They are old fashioned, charming, and an enduring garden favorite. Marigolds can have single, semi-double or fully-double blossoms, they can be tall or short and dainty. The color range includes, yellow, gold, orange and mahogany; flowers may be solid or bicolored. Modern hybrids have produced cream and near-white forms.
Seed collection is very easy and is a good start for a beginner to seed saving. The base of the flower swells as the flower fades and withers. Eventually the flower is a dried up dark brown bit and the swelling pod has turned from green to tannish-brown and has spread open at its exterior end. It will be easy to remove the seeds from the pod...simply grasp the dried up flower and pull it out of the pod, through the opening come all the seeds in a tight cluster attached to the withered flower. Clasp that cluster of seeds and pull it from the dried flower to separate them. Let the seeds dry for a few days on an open plate before packing.
The seeds are narrow and flat, they are usually between 1/4" and 1/2" long. They are two toned, there is wheat colored chaff at one end and a very dark greyish-black seed at the other. Seeds that are lighter than this dark greyish-black are not mature. It is not neccessary to remove the chaff from the seed....they are usually sold this way.