New England Aster ~ Aster novae-angliae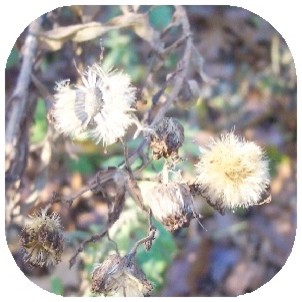 Image by: wintersown
Perennial New England Asters have small one inch ray flowers in the white, pink and lavender to purple range. The seeds are dispersed by the "fluff and fly" method, as they mature they grow their own parasols to be carried off with the wind to a new location far from the parent plant.
The left seed tuft in the photo clearly shows where the seeds are located. On a windy day this tuft would finish dispersing in a few short hours.
Seed collection is easy....simply grasp the the fluff with your fingers and remove it from the plant. The seeds are located at the very base of the fluff held in a tight cluster. They are quite small, light to medium brown, the width of a fine needle and about a 1/8" long. Because there is so much chaff with these aster seeds they are often traded as seeds and chaff mixed together. Sowing instructions should mention patting both seeds and chaff together onto the soil surface.