California Poppy ~ Eschscholzia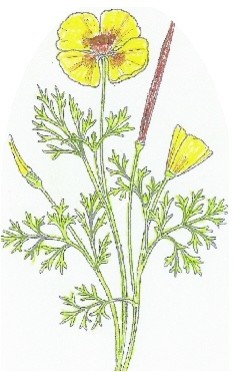 Image by: wintersown
California poppies are generally grown as an annual in zones 7 and higher, though in the warmer zones they are short lived perennials. They often reseed, but not invasively, and new seedlings are a welcome in any garden. They have distinctive light blue-green ferny foliage. California poppy flowers are typically yellow or orange but new hybrids now include pink, plum and scarlet-red.
Seed collection is easy. The plant produces a long and narrow seed pod shaped somewhat like a darning needle. It turns wheat to tawny brown when the seeds are mature and will begin to split open down a long seam. Gather the pods when they are just beginning to split. Place the pods in an open container and allow them to dry for a few days more before removing the seeds. The seeds are small round(ish) balls, never larger than a 1/16th of an inch across and are brown in color.