Castor Bean ~ Ricinus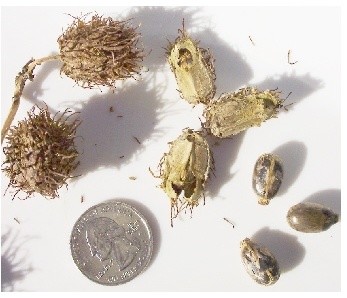 Image by: wintersown
Castor bean is a tall tropical-looking annual plant with large palmate leaves. Because all parts of castor plant are toxic it should not be grown where children might be attracted to the berry-looking seed pods.
Seed collection is easy. The plant produces large ornate seed pods studded with cillia. When the pods turn dark brown and are dry they may be removed from the plant. The pod will separate into three chambers, each encasing one single seed. The seeds are reminiscent of beetles. Castor beans are thick, dense seeds and should be dried in a safe location for several weeks before packing.