Shrubs for Autumn and Winter Interest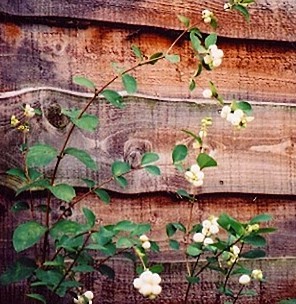 Image by: Ian Nartowicz
Symphoricarpus alba (Snowberry)
Autumn Interest
At the end of the summer when the annuals have lost their lustre and most flowering shrubs and perennials have given up, the garden can still put on a good show. There are some plants that will flower well into autumn, some that will already have a showy fruit crop, and some that will dazzle with the colour of its dying foliage.

Much depends on climate. In warmer areas it is easy to find shrubs that will flower into November or later, but it is less easy to get stunning red foliage in warm zones.

Winter Interest
When the days are short and snow is on the ground, a few shrubs still offer a bit of colour in the garden. Bright red berries are the obvious choice for colour in winter, but there are fruit in other colours, attractive variegated evergreens, and even the occasional flowering shrub.

Again, different climates force us to look at different shrubs for winter interest. In really cold winters, flowers are impossible and foliage is restricted to needles. In warmer areas, attractive foliage may be lost in a mass of green and berries may be hidden by leaves.

Shrubs to Consider
Here is a list of some shrubs that you might want to consider for autumn and/or winter interest. I have tried to include shrubs with interesting flowers, foliage, berries, or stems, and to include some for very cold zones.

| | | | |
| --- | --- | --- | --- |
| Latin name | Common Name | Attractive features | USDA zones |
| Aronia sp. | Chokeberry | Reliable bright autumn colours. | 4-9 |
| Callicarpa sp. | Beautyberry | Stunning berries in various purple and violet colours in autumn and early winter. | 6-11 |
| Camellia sp. | Camellia | White, pink, or red flowers in autumn, early winter, or late winter, depedning on the variety. Flowers in winter in warmer zones and autumn or spring in colder areas. | 6-11 |
| Chimonanthus praecox | Fragrant Wintersweet | Yellow/purple flowers any time during winter depending on the weather. | 6?-10 |
| Clethra barbinervis | Japanese Clethra | Exfoliating bark visible throughout the winter. | 5-8 |
| Cornus mas | Cornelian Cherry Dogwood | Dull yellow flowers in late winter and early spring, a little like a native Forsythia. Some autumn colour. | 4-8 |
| Cornus sp. | Dogwood | Bare red or yellow stems during winter on several species and varieties. Berries on some varieties. | 3-8 |
| Corylis avellana 'Contorta' | Corkscrew Hazel | Bizarre twisted stems visible during the winter. Catkins in late winter. | 4-9 |
| Disanthus cercidifolius | Disanthus | Bright red autumn leaves. | 6-10 |
| Enkianthus sp. | Enkianthus | Very good autumn colour in some plants, not so good in others. | 6-9 |
| Erica carnea | Heath | White, pink, or red flowers during winter | 4-9 |
| Euonymus alata | Burning Bush | Brilliant red foliage in autumn, but invasive in some areas. | 4-9 |
| Fothergilla gardenii | Dwarf Fothergilla | Autumn colours from orange to purple, but variable so pick a good individual plant. | 5-10 |
| Garrya elliptica | Silk Tassel | Long catkins in mid-winter. | 8-10 |
| Hamamelis x. intermedia | Witch Hazel | Red or yellow flowers in winter. Brilliant autumn foliage on some varieties. | 5-9 |
| Hebe 'Red Edge' | Red Edge Hebe | Evergreen blue-green foliage with maroon edges and tips, especially in winter. | 8-10 |
| Hydrangea quercifolia | Oakleaf Hydrangea | Good colour into late autumn and attractive peeling bark on coloured stems. | 5-9 |
| Ilex aquifolium | English Holly | Persistent red berries, evergreen, some varieties have variegated foliage. | 7-9 |
| Ilex glabra | Inkberry | Small black berries all winter, some varieties have white berries. Evergreen foliage. | 5-9 |
| Ilex verticillata | Winterberry | Persistent red berries on this deciduous holly. | 3-8 |
| Ilex x meserveae | Blue Holly | Spiny bluish evergreen foliage and many red berries. | 5-9 |
| Itea virginica | Virginia Sweetspire | Mixed autumn colours from yellow to crimson. | 6-10 |
| Jasminum nudiflorum | Winter Jasmine | Yellow flowers on bare green stems November - March. | 6-10 |
| Lonicera fragrantissima | Winter Honeysuckle | Highly fragrant but not showy flowers in late winter. | 4-9 |
| Lonicera x purpusii 'Winter Beauty' | Winter Honeysuckle | Highly fragrant white/yellow flowers in winter. | 5-9 |
| Mahonia x media | Holly Grape | Long yellow flower racemes in mid-winter. Distinctive spiny evergreen foliage. | 7-9 |
| Nandina domestica | Heavenly Bamboo | Brilliant red foliage all winter. May also have berries, usually red but yellow or white on some varieties. | 6-9 |
| Osmanthus | Tea Olive or False Holly | Flowers in late autumn. Attractive evergreen leaves like English Holly, variegated in some cultivars. | 7-9 |
| Photinia villosa | Oriental Photinia | Showy autumn foliage. | 4-9 |
| Pieris japonica | Japanese Pieris | Coloured flowers bud throughout the winter. Shaped evergreen foliage. | 5-10 |
| Pyracantha coccinea | Firethorn | Yellow, orange, or red berries until spring. Semi-evergreen. | 5-9 |
| Rubus cockburnianus | White-stemmed bramble | White stems all winter. | 6-8 |
| Sarcococca sp. | Sweetbox | White flowers against dark green foliage in mid-winter. Some species only hardy to zone 8. | 6-10 |
| Stephanandra tanakae | ? | Orange and red autumn colours. | 5-9 |
| Symphoricarpus alba | Snowberry | White berries in autumn | 2-8 |
| Vaccinium sp. | Blueberry | Red autumn foliage and red winter stems. Berries are a summer feature. | 2-9 |
| Viburnum farreri | Fragrant Virburnum | Fragrant white flowers in early and late winter. | 5-9 |
| Viburnum lentago | Nannyberry | Berries in various shades eventually bluish-black by late autumn. | 2-8 |
| Viburnum tinus | Laurestinus Viburnum | White flowers and strongly coloured berries all through winter. | 8-11 |
| Viburnum x bodnantense 'Dawn' | Dawn Viburnum | Masses of pale pink flowers in winter. | 6-10 |
| | | | |