Which Shrubs Smell Good?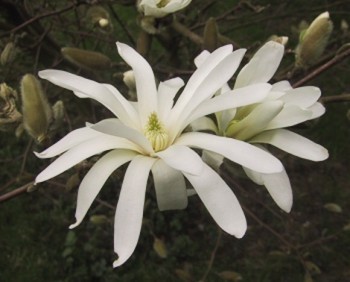 Image by: Olivier
Magnolia stellata What's that smell?
We all know that many flowers smell and that is true of flowers on shrubs. Some also have fragrant foliage and occasionally fragrant roots or stems. This is often neglected when shrubs are chosen for the background because of their size and shape, leaving perennials and annuals to provide the scent.
Here are some ideas for shrubs that have a pleasant fragrance, either from their flowers or from their foliage.
fragrant-flower'>Fragrant flowers
By far the commonest way to add scent to a garden is by using flowers.
Latin Name Common Name Comments USDA Zone Buddleia davidii Buddleia Distinctive summer fragrance. 5-9 Calycanthus Allspice Flowers smell like bubblegum. Leaves are also fragrant. 5-9 Chimomanthus praecox Fragrant Wintersweet Small fruit-scented creamy flowers during late winter. 7-10 Choisya ternata Mexican Orange Orange-scented spring flowers. 7-11 Clethra Summersweet Flowers from mid-summer to autumn and smells like roses. 3-8 Cytisus battandieri Pineapple Broom Flowers smell like pineapple. 7-9 Daphne ordora Winter Daphne Very fragrant winter flowers. 7-9 Daphne x burkwoodii Daphne Showy fragrant flowers in spring. 5-8 Gardenia jasminoides Gardenia Scented flowers for several months in spring and summer. 8b-10 Hamamelis mollis Witchhazel Spicy scented yellow flowers during winter. Many Witchhazel hybrids are also scented. 4-9 Jasminum nudiflorum Winter Jasmine Not a strong scent but it last the whole winter. 7-10 Ligustrum Privet Flowers have a distinctive smell, not always considered pleasant. 5-11 Lonicera Honeysuckle Familiar sweet-smelling flowers. 5-9 Magnolia Magnolia The large spring flowers are scented. 7-9 Osmanthus False Holly Insignificant flowers in autumn have a subtle scent. 7-9 Rhododendron Rhododendron/Azalea Many species and varieties have scented flowers, but not all. 4-9 Rosa Rose Choose a Rugosa or an old rose like Damask for the strongest scent. 5-10 Sarcococca Sweetbox Winter flowers smell like honey. Followed by berries, S. hookeriana is the most fragrant. 6-9 Syringa Lilac Lilac flowers add scent in spring. 3-8 Viburnum Viburnum Honey and spice scented flowers. V. burkwoodii, V. carlesii, V. farreri, and V. x bodnantense offer the best scent. 4-8
Scented leaves
A few shrubs have leaves which produce a noticeable smell, sometimes only when touched or crushed. Latin Name Common Name Comments USDA Zone Aloysia triphylla Lemon Verbena Lemon-scented foliage used as a herb. 8-11 Calycanthus Allspice Also has fragrant flowers. 5-9 Elettaria cardamomum Cardamom Leaves smell like Cardamom. 9-11 Elsholtzia stauntonii Mint Shrub Leaves smell like mint. 4-8 Illicium Anise Crushed leaves smell like aniseed. 8-10 Ledum groenlandicum Labrador Tea Aromatic leaves are used to make tea. 2-8 Lindera benzoin Spicebush Strong spicy citrus scent from crushed leaves. 4-9 Rosemarinus...