What are recommended plant spacings?
Ray_Scheel
(z8b/SS31 E. TX)
January 1, 2013
In the following list, all spacings are according to Mel in SFG (chapter 18) unless otherwise indicated (Mel left a few out!) Basil 1/sqft (Note: WAY too small for some of us in warmer climates! Try 1/4 sqft, or plant 1/sqft and trim that sucker like crazy!) Beans: bush (French) 9/sqft Beans: pole (Runner) 8/sqft on pole or trellis Beets 16/sqft Broccoli 1/sqft Brussels Sprouts 1/sqft Cabbage 1/sqft Carrots 16/sqft Cauliflower 1/sqft Celery 4/sqft (6") Chard(Swiss) 4/sqft Corn 1/sqft - must plant in blocks of at least 4ft x 4ft to get an attractive kernel set Cucumbers 2/sqft in a row of 4 sqft (6" apart along middle of trellissed sqft row) Daffodils 36/sqft Eggplant 1/sqft (Note: those of us in hot climates find this MUCH too small for eggplant!) Garlic 4/sqft (6") Some say 9/sqft (4") Leeks 9/sqft (see special technique in 2/96 OG) Lettuce 4/sqft Marjoram 4/sqft (according to sqft reader Kevin M. Wilson) Muskmelons 1/sqft (grow in row of 4 squares, on trellis) Okra 1-2/sqft Onions 16/sqft Oregano 1-4/sqft Parsley 4/sqft Peas 8/sqft some varieties on trellis, some varieties are bush Peppers 1/sqft Potatoes 1/sqft Radishes 16/sqft Savory 1/sqft Scallions 36/sqft (2") Spinach 9/sqft Squash Summer: vine-type 3/4sqft (see special grid); bush-type 1/3sqft Winter: 1/2sqft (see special grid) Thyme 4/sqft Tomatoes bush-type: 4/4sqft (see special grid); vine-type 1/sqft (in row of 4 on trellis) Watermelon bush-type 1/sqft; vine-type 1/2sqft - both kinds along trellis Zucchini 1/sqft primary source for table: squarefootgardening. org .uk/sqftspacings. htm, 6/2003.
Asparagus and strawberries have dedicated cultivation practices outside the scope of this guide
This is very helpful information from Mel's website on converting standard seed spacings to sqft spacing:"Depending on the mature size of the plant, grow 1, 4, 9, or 16 equally spaced plants per square foot. If the seed packet recommends plant spacing be 12 inches apart, plant one plant per square foot. If 6 inch spacing; 4 per square foot. If 4 inch spacing; 9 per square foot. If 3 inch spacing; 16 per square foot."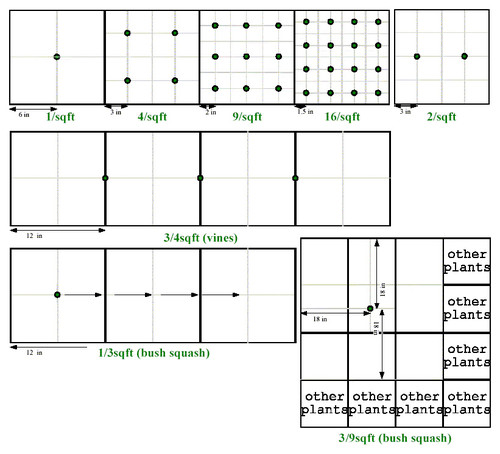 Image by: fuzzy (ed. by ray_scheel)
Plant spacing chart