Poster Suggestions for Flats to be Made from Recyclables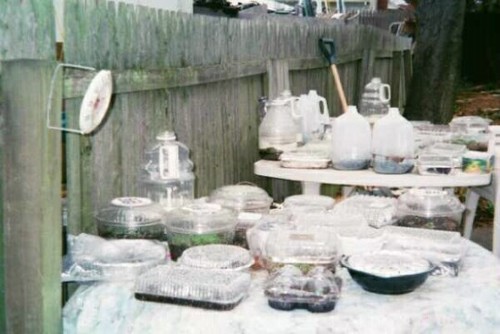 Assorted recycled flats. Many of these suggestions have been made by forum posters....all it takes is a little imagination and you can turn a cast-off recyclable into a mini-greenhouse. Thanks to all the posters who have contributed their ideas to this FAQ.
I have used plastic milk jugs and 2 liter soda bottles too, just cut around the middle almost all the way through. Make the drainage slits. Fill with dirt, water, drain, sow, cover with more dirt. Tape the cut edges together and simply remove the cap for air transpiration.
Cardboard orange juice or milk containers can be used with a baggie. Cut them in half, horizontally or vertically, make the drainage slits and sow your seeds by the same method above. Slip the flat into a baggie, tie it closed with a twist tie or a knot and use the knife to make a few slits for air transpiration, put a few slits in the bottom of the baggie for drainage.
Coolwhip tubs: Make the drainage slits, sow your seeds as above. Take a scissors and cut out the center of the lid, leaving about an inch around the inside of the rim. Put a piece of saran wrap over the tub, put on the lid. This holds the saran wrap "window" snugly. Take the knife and make some slits in the saran wrap for air transpiration.
One of the best sources for freebie flats is at the supermarket. They put all the bakery cakes and cookies in clear plastic containers with domed lids that snap in place. They use some of the same containers over in the produce section too. Perfect!
I wanted to share a little tip that I thought of while I was doing this. In some of the flats I had more than one color of the same type of seeds, so as a way to mark them I used colored paper clips. I just twisted them and put them in the dirt next to the rows and I have a easy way to mark them!
I just found a new mini greenhouse source for winter sowing outdoors....those black plastic containers with the clear domed lids that deli roasted chickens come in! A friend of mine buys many of these and has saved the containers and she gave them to me. I heated a knife in the gas flame on my stove and made slits in the clear cover and the black base. They snap together securely and I'm ready to plant!
A treasure I found was a big box of freezer boxes with the lids. They had been packed away in a storage house and will never be used again for freezing vegetables. I poked holes in the top and the container, filled it about half full of soil and it makes a nice container for a few seeds.
One of my favorites that I've used so far is the tins that my muffins come in. They are easy to handle and I can put a few different types of seeds in one flat without mixing them up.
Costco (BJ's, Sam's Club, etc) sell two dozen mini-croissants in party trays with a clear plastic covering that is about 3 1/2 inches tall...it snaps together and holds 24 of the 2 1/2 inch jiffy pots...