Hardy Annuals for Winter Sowing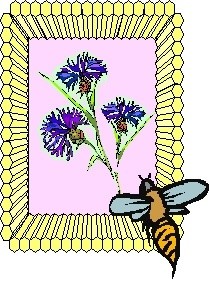 Bachelor Buttons "What is a hardy annual?"
A hardy annual is typically tolerant of colder temperatures and is generally capable of reseeding in most gardens.
==================================================
Here's a list of hardy annuals suggestions for winter sowing!
Abronia umbellata (sand-verbena)
Adonis aestivalis (pheasant's eye)
Ageratum Houstonianum (floss flower)
Agrostemma githago (corn cockle)
Alonsoa acutifolia (maskflower)
Amaranthus caudatus (love-lies-bleeding)
Amberboa moschata (sweet sultan)
Anagallis indica (blue pimpernel)
Anchusa (bugloss)
Alyssum maritimum (sweet alyssum)
Antirrhinum majus (snapdragons)
Argemone mexicana (prickly poppy)
Asperula azurea (woodruff)
Brachycome iberidifolia (swan river daisy)
Browallia demissa (bush violet)
Bupleurum rotundifolium (ox-eye daisy)
Calandrinia grandiflora (red-maids)
Calendula (pot marigold)
Callistephus (China aster)
Campanula (annual Canterbury bells)
Celosia (cockscomb)
Centaurea (cornflower)
Centranthus macrosiphon (valerian)
Chrysanthemum paludosum (mini-marguerite)
Clarkia elegans
Collinsia bicolor (Chinese-houses)
Collomia coccinea (mountain-trumpet)
Consolida ajacis (Larkspur)
Convolvulus (dwarf/bush morning glory)
Coreopsis tintoria (calliopsis)
Cosmos bipinnatus (tall cosmos)
Cosmos sulphureus (sulphur cosmos)
Crepis rubra (hawks-beard)
Cuphea ignea (fiery cuphea)
Cynoglossum (Chinese forget-me-not)
Datura species (thorn-apple)
Delphinium (larkspur)
Dianthus chinensis (China pinks)
Diascia barberm (twinspur)
Dicranostigma franchetianum (bright-yellow poppy)
Dimorphotheca aurantiaca (Cape marigold)
Dracocephalum moldavica (Moldavian dragonhead)
Echium creticurn (bugloss)
Emilia javanica (tassel flower)
Eschschlotzia californica (California poppy)
Fagopyrum esculentum (buckwheat)
Felicia bergeriana (kingfisher daisy)
Gaillardia pulchella (blanket flower)
Gilia (bird's-eye)
Godetia (fairyfan, farewell-to-spring)
Gypsophila (baby's breath)
Helianthus (sunflowers)
Helichrysum (strawflower)
Helipterum (paper daisy)
Hunnemannia fumariifolia (Mexican tulip poppy)
Iberis (candytuft)
Impatiens (balsam)
Ionopsidium acaule (false diamond-flower)
Lathyrus odoratus (sweet peas)
Lavatera (annual mallow)
Leonorus (lion's paws)
Limnanthes douglasii (poached-egg plant)
Limonium sinuatum (statice)
Linaria bipartita (toadflax)
Linum (flax)
Lobularia (alyssum)
Lupinus (lupine)
Lychnis (catchfly)
Malcomia maritima (Virginian stock)
Malope trifida (malope)
Malva (mallow)
Matthiola bicornis (night-scented stock)
Mesembryanthemum (ice-plant)
Myosotis dissitiflora (forget-me-not)
Nemesia strumosa (Cape jewels)
Nemophila (baby blue-eyes)
Nicandra (shoo-fly)
Nicotiana (flowering tobacco)
Nigella (love-in-the-mist)
Osteospermum (Star of...