Annie's Salsa Recipe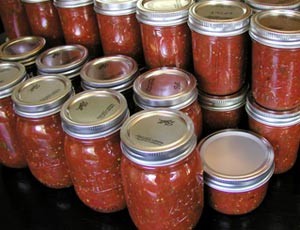 Image by: Barnmom
8 cups tomatoes, peeled, chopped and drained
2-1/2 cups onion, chopped
1-1/2 cups green pepper, chopped
3 - 5 jalapenos, chopped
6 cloves garlic
2 teaspoons cumin
2 teaspoons ground black pepper
1/8 cup canning salt
1/4 cup fresh cilantro, chopped
1/3 cup sugar
1 cup 5% apple cider vinegar
2 cups (16 oz.) tomato sauce
2 cups (16 oz.) tomato paste
Mix all ingredients, bring to a boil and boil for 10 minutes. Pour into hot pint jars leaving 1/2" headspace, seal and process in a boiling water canning bath for 15 minutes. Adjust for your altitude (see below).
Makes about 6-7 pints.

Additional Notes for Ingredients and Processing

8 cups tomatoes, peeled, chopped and drained
Any type or color of tomato may be used (paste, canning, beefsteak, a combination of different types, etc.) The paste types will be meatier, the canners such as Rutgers are somewhat juicier than paste types and the beefsteaks the juiciest of all.
Some prefer, as Annie does, to remove the tomato seeds and gel sacks. Some don't remove the seeds - this is personal preference.
Measure after peeling, chopping and draining.
2-1/2 cups onion, chopped
Roughly a 1/4" chopped size (this is the size used in the NCHFP testing - a little larger won't matter, but try not to have the pieces larger than 1/2" maximum).
1-1/2 cups green pepper, chopped
Roughly a 1/4" chopped size.
3 - 5 jalapenos, chopped
Any combination of green, red, whatever color peppers is fine. 3-5 jalapenos equates to roughly 1/4 cup, so total peppers cannot exceed 1-3/4 cups. For a spicier salsa, you can decrease the sweet peppers and increase the hot peppers by the same amount. Or, you can use hotter peppers (such as habaneros or serranos) but the TOTAL amount of peppers cannot exceed 1-3/4 cups.
6 cloves garlic, minced or finely diced
Do not increase. Small differences in size of cloves should not matter.
2 teaspoons cumin
For taste only. Can be reduced or left out entirely.
2 teaspoons ground black pepper
For taste only. Can be reduced or left out entirely. Any dried ground pepper such as cayenne may be substituted for a portion of or all of the black pepper.
2 tablespoons (same measurement as 1/8 cup) canning salt
For taste only. Can be reduced or left out entirely.
1/4 cup fresh cilantro, chopped
Can be reduced or left out entirely. Do not increase. Dried cilantro or other dried herbs may be added, but not more fresh herbs (fresh herbs change the pH - dried herbs do not). Add additional fresh herbs only after you open the jar.
1/3 cup sugar
For taste only. Can be reduced or left out entirely.
1 cup 5% apple cider vinegar
Can use any flavor vinegar (white, cider, etc.) as long as acidity is at least 5%. However, you can substitute bottled lemon or lime juice in any proportions according to taste (for example, 1/3 cup vinegar, 1/3 cup lemon juice, 1/3 cup lime juice) as long as the total equals one cup.
2 cups (16 oz.) tomato sauce
Can be reduced slightly. See "Canning & Processing" notes below.
2 cups (16 oz.) tomato paste
For texture only. Can be reduced or left out entirely.
JAR SIZES
You may: Process in pint jars (either regular or wide mouth) or smaller (12 oz., 8 oz. half pints, or 4 oz. quarter pints). Process all smaller sizes at the same processing time for pints.
You may NOT:
Process in larger jars (24 oz., 32 oz. quarts or 1/2 gallon jars). Testing was done only in pint jars.
CANNING & PROCESSING
The recipe for pressure canning originally specified 1/3 cup vinegar and copies of that recipe are still available on the Internet. Pressure canning salsa has not been tested, therefore it is not officially recommended.
If you wish to pressure can the salsa, you must include a full 1 cup of vinegar. Processing time that is currently used by some is 10 lbs. pressure for 30 minutes. Adjust for your altitude (see below).
Because salsa is eaten out of the jar without heating and includes low acid vegetables such as garlic, onions and peppers, it is one of the riskier products to can at home due to two factors: the pH or acidity level (the normal cutoff point for boiling water bath vs. pressure canning is a pH of 4.6 and salsa can edge very close to that) and the density of the product.
The salsa should be thin enough for the liquid portion to thoroughly suspend the chopped vegetables so the very center of the jar heats up to the same temperature as the outer portion next to the glass during processing.
If you want it thicker, puree it AFTER you open the jar. DO NOT puree before processing - this would affect the density. Or, add a thickener such as Clear Jel or cornstarch AFTER you open the jar.
DO NOT add other low acid vegetables before processing, such as corn or black beans. Only add them after you open the jar.
ADJUSTMENTS
If you live above 1000' in elevation, you need to calculate your altitude adjustments for both boiling water bath (BWB) and pressure canning (PC). As your altitude goes above 1000 feet the atmospheric pressure is reduced. This causes water to boil at temperatures lower than 212 degrees Fahrenheit.
For safety in water bath canning, you must bring the contents of your jar to at least 212 degrees Fahrenheit. To compensate for the lower boiling temperature at altitude, you must increase processing time.
For this salsa recipe, BWB times at altitudes of (per the Ball Blue Book):
Up to 1000 ft. Processing time is 15 minutes.
1001 - 3000 ft. Increase processing time an extra 5 minutes to 20 minutes total.
3001 - 6000 ft. Increase processing time an extra 10 minutes to 25 minutes total.
6001 - 8000 ft. Increase processing time an extra 15 minutes to 30 minutes total.
8001 - 10,000 ft. Increase processing time an extra 20 minutes to 35 minutes total.
Adjustments for pressure canning can be found in the Ball Blue Book or on their website.
Do make sure you know the altitude where you do your canning. People that live in Denver know they are in the Mile High City and have to make adjustments, but portions of cities like Atlanta, Pittsburgh, and Oklahoma City are all above 1000' and it may be something you're not aware of and need to be compensating for.
DO I HAVE TO USE BOTTLED LEMON JUICE?
The pH scale runs from 0 (very acidic) to 14 (very alkaline).
Each increment from 0 to 14 is 10 times more acidic/alkaline (remember the "magic" number of pH 4.6 for BWB vs. pressure canning). pH testing on fresh lemons ranged from 2.20 to 3.20, so one variety of lemon or even an individual lemon grown in a different orchard might be 10 times LESS acidic than another. Bottled lemon juice, which is processed to a standard acidity, is used for testing in recipes and is also pasteurized, therefore it also will not create any further enzyme reactions in your canned goods (per the folks at ReaLemon a couple of years ago).
Note: Bottled lemon or lime juices are only called for when canning borderline pH foods (tomatoes and salsa usually). If you are making jams and jellies with high acid fruits (any fruit excluding Asian pears, bananas, mangoes, figs and melons), feel free to use fresh lemon or lime juice.
Do I personally like using bottled lemon juice? Not particularly, but when a canning procedure SPECIFICALLY CALLS FOR IT, I use it without questioning it.
A very good explanation is in this publication from North Dakota State University - "Why add lemon juice to tomatoes and salsa before canning?"
Especially note the different pH values of individual varieties of tomatoes (and there are thousands more varieties).
For the more science oriented, this 2004 paper from the NCHFP:
On safe acidification of salsa for home boiling water canning